Our Meat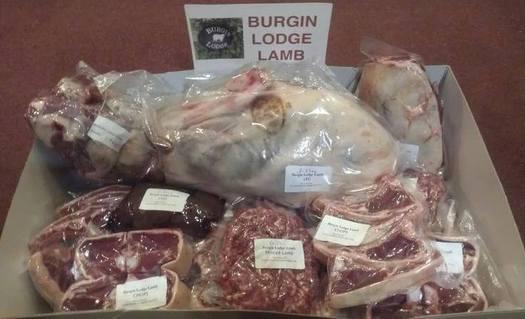 We pride ourselves on the quality of our lamb , which is naturally reared and hung for a week to ensure succulent , tender lamb for an excellent tasting experience.
Burgin Lodge Lamb is produced under the High Standards of the Red Tractor Farm Assurance Scheme
Our Lamb Boxes are available to order on a monthly basis and are available as a Whole or Half Lamb Box . A Half lamb will weigh aprox 8kg (depending on cuts selected ) and fits nicely in one upright freezer compartment.
Prices
Whole Lamb Box - £140
Half Lamb Box - £75
Lamb Selection Box - £various - See Options Below
Gift Vouchers also available - please enquire
Delivery
Free Delivery to Melton Mowbray , Grantham and surrounding Villages
For Delivery outside these areas please contact us via the Contact us Page
Descriptions
Whole Lamb Box
2 x Whole or Halved Legs
2 x Whole or Halved Shoulders (can be boned and rolled or diced)
Selection of Loin chops and Cutlets - Packed in 4's
2 x Breasts or Minced
Neck Chops or Minced
Liver and Kidney (optional)
Half Lamb Box
As Above - But 1 x Leg /Shoulder/ Breast
Cutting options for whole and Half lamb boxes can be discussed at time of order
Lamb Selection Box (May be supplied Frozen)
Lamb selection boxes are always available throughout the year , Please call 07710 254688 for further details
Options and prices - For inclusion in selection Boxes
Leg (Whole or Half ) - £11.50/kg , Boned -£13.50/kg
Shoulder (Whole or Half) - £10.50/kg , Boned £12.50/kg
Leg Steaks (Packs of 2 ) - £15/kg
Diced (Packed in approx 500g packs ) - £11.00/kg
Chops (Packs of 4 ) - £13.50kg
Loin - Rack - £13.50/kg
Loin - Fillet - £15/kg
Mince (Packed in approx 500g packs ) - £8/kg
Neck - Chops - £7/kg , Fillet £8.50/kg
Liver - £5/kg
PAYMENT - BY ELECTRONIC TRANSFER(as per invoice details on confirmation of order) ,or CARD /CASH AT DELIVERY
TO ORDER :
Please Complete Form Below to be emailed an order form to confirm cutting and delivery requirements
FOR ORDER DATES SEE HOME PAGE